Containerized US Furniture Imports Continue Growth
Source: JOC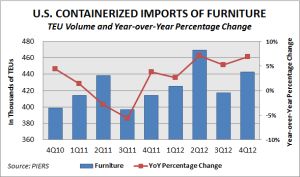 U.S. Furniture Imports
Containers of furniture imported through U.S. ports increased almost 7 percent year-over-year in fourth quarter 2012, the fifth consecutive quarterly year-over-year increase. Imports totaled 442,588 20-foot-equivalent units, compared with 413,956 TEUs in the fourth quarter of 2011.
Furniture imports showed overall increases for the year, with the highest volume recorded in the second quarter, 469,310 TEUs, which was also the highest TEU count since the second quarter of 2008. Imports rose 2.7 percent in the first quarter, 7.1 percent in the second quarter and 5.2 percent in the third quarter, according to preliminary data from PIERS, a JOC sister company.
The furniture import volume for full year 2012 totaled 1,754,252 TEUs, up 5 percent or 91,383 TEUs from 1,662,869 TEUs in 2011.
Mainland China, not including Hong Kong, held two-thirds of the U.S. import market in 2012, although its share was down 2.1 percentage points year-over-year. Other top countries of origin for U.S. furniture imports in 2012 were Vietnam, with 12.3 percent, up 1.6 percentage points; Malaysia, 4.2 percent, up 0.2 percentage points; and Indonesia, 3 percent, up 0.3 percentage points.
Furniture imports from Italy jumped 20 percent in volume in 2012, solidifying the country's spot as the sixth-largest supplier of U.S. furniture imports. Import volume from Poland fell 6 percent in 2012, although the country remains the seventh-largest U.S. supplier.